Fresh from doing her best to stab her fellow novelists in the back and front for writing genre-based novels (something where she appears to be blind to her own scribbling) Hilary Mantel has now started on Princess Diana.
In a long piece in the Guardian, she does what can only be called a hatchet job, the gist of which is well she bought a ticket so if the plane crashes too bad. Mantel manages to be knowing, supercilious and smug. She saw it coming and Diana walked into it with her childish, inexperienced eyes open. The piece is essentially about how she constructed her own destiny and fate but along the way there is a kicking for the British public and their hankering for sentimental claptrap and there are a few digs at people who make money writing books about other people (funny, I thought she did that as well).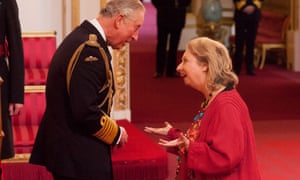 (The Guardian)
Is she an innocent, detached and objective commentator? Well, she clearly subscribes to the Great Man theory of history in her novels even when she writes about women! And, she is pretty clearly a royalist, understanding the importance of monarchs in the social order and the need for everyone else to know their place.
Has she got Diana right? This is probably an impossible question to answer. Princess Diana has been so overwritten and so many lies and untruths have gradually been uncovered about things which were said about her that is fairly easy for anyone to hang their own coat on her hook. However, Ms Mantel does head off in what we might call the 'dizzy blonde tart who falls flat on her face' genre without much hanging about.
Psychics, flash outfits, pouty faces are the order of the day rather than eating disorders characterised by the disgraceful behaviour of a member of the Royal family whose upbringing was so chaotic and dysfunctional that he had no idea what he was doing was wrong.
What inspires her to write this kind of bile? That is a really tricky question but assume there is a shadowy establishment in this country which really doesn't like boats being rocked by the hoi polloi is it possible that somebody, somewhere might have mentioned to Ms Mantel that she does seem to have a poisonous tongue and Princess Diana might be good for a pasting. Any evidence? Well, she seems pretty cosy with the future king who is an avowed fan of her novels and this is an area where she can simper rather than scowl, and she owes his Mrs an apology for accidentally dissing her in the past as you might put it.
Why does the Guardian print it. Another difficult one but there has been a lot of what might be termed pro-Diana stuff in other newspapers (the kind Guardian readers only see on the shelf in Waitrose). Some of it is about the rather dodgy accident which ended her life but much of it reflects the recent documentary where, however snotty you want to be about her mannerisms, she didn't come over as loony. There is also a kind of middle-class liberal who really likes the novels of Hilary Mantel. She brings history to life in such evocative ways and makes good television blah blah blah but in doing so she also points out the stability of the Crown and how it holds up our country allowing the persistence of those wonderful British values and a class system where everyone knows their place. Who would ever want to live in France where they had a revolution! In other words, she is the ideal person to write this article which I assume is second-hand drivel unless she had a word with the office of the soon to be king who are quite clearly constantly active in media manipulation around this story. It would be nice to be told.
I find it somehow unsavoury. If this is a non-story then ignore it but if it is an issue that reflects on our constitution and how we operate as a nation then investigate it without taking sides.